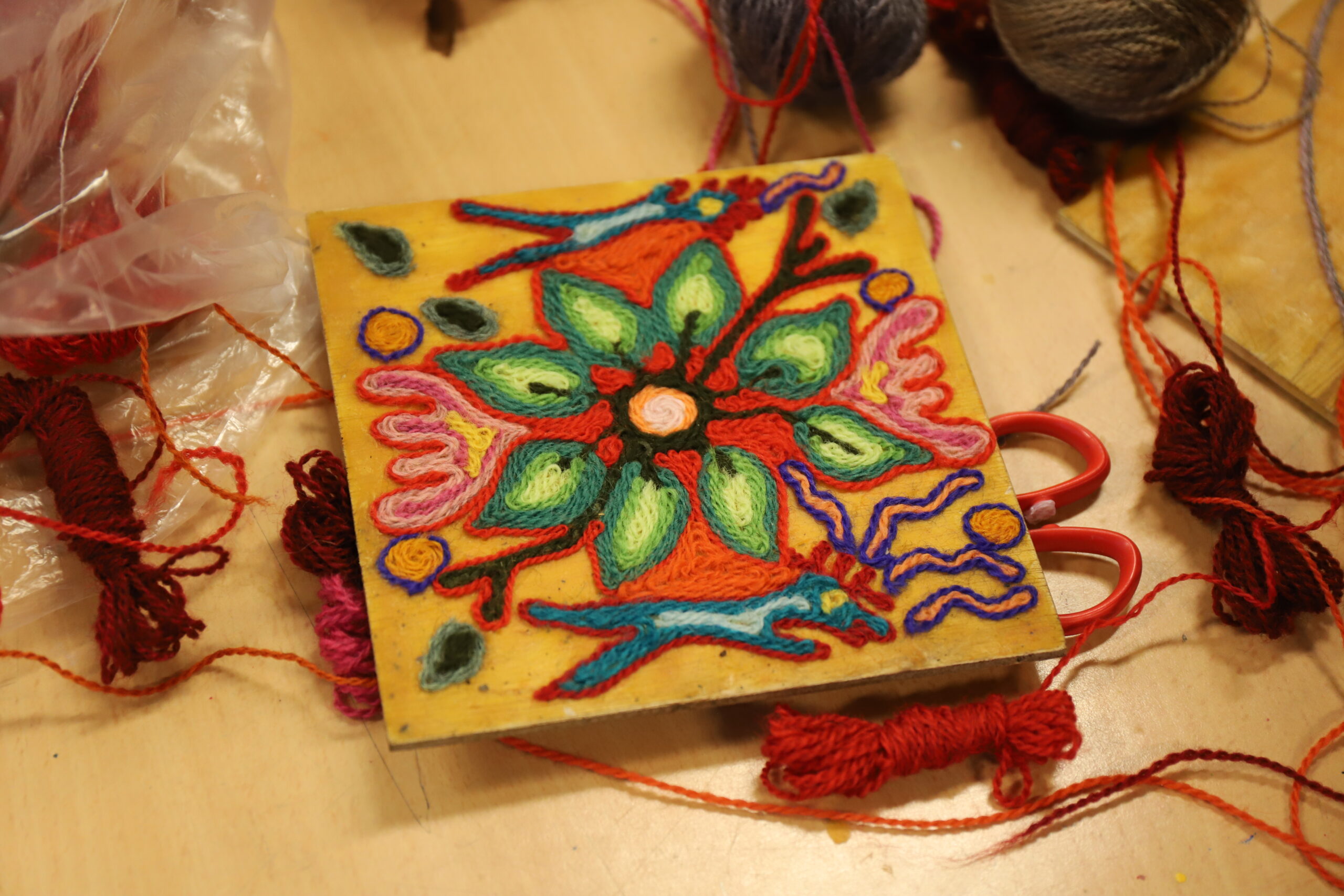 Kárášjoga skuvlamánát leat duddjon dáidaga "NIERIKA". Dat lea Wixárika láigemálen, duodji ja dáidda prošeavtta čájáhusa rahpan Lávvardaga 5.11 dii.12, RDM – Sámiid Vuorká-Dávvirat.
Govva:
Kieri-nammasaš lieđđi barggu vuolde. Wixárika dáiddár Muwieri Temai, Juan Aurelio Carrillo Rios.
Prošeavtta birra
Nierika lea láigemálema bargobádji nuoraide Kárášjogas 7.10.–5.11.2022. Bargobájis leat leamaš mielde Kárášjoga vuođđoskuvlla 5a-, 7a- ja 7b-luohkkáid oahppit. Prošeavtta ovttasbargit: Dáiddauniversitehta Helssegis (University of the Arts), RDM – Sámiid-Vuorká Dávvirat, Kárášjoga vuođđoskuvla ja Tenthaus Art Collective.
Bargobájit skuvllas gullet stuorát ovttasbargoprošektii "Taking Back the Museum" 2021-2024. Ruhtadeaddjit: KORO, Kone-foanda ja Tenthaus Art Collective.
Nierika-bargobáji ulbmil lea oahpásmuvvat eará álgoálbmoga dáidagii
Wixárika dáiddár Muwieri Temai orru Meksikos. Son ráhkada nierika málemiid ja árbevirolaš bearralbargguid. Son lei Kárášjoga bargobáji bagadalli. Kárášjoga prošeavtta jođiha dáiddár-dutki Lea Kantonen. Prošeavttas leat mielde Pekka Kantonen (fiblmejeaddji) ja Hanna Ellen Guttorm, Báršši Sámmol Hanna, sápmelaš dáiddár-dutki gii bargá Helssega Universiteahttas ja Sámi allaskuvlas.
Čájáhusrahpan 5.11 dii 12:00
Mánáid dáidaga fáddá lea "Kárášjoga vássánáigi, dálá áigi ja boahtte áigi".
Skuvlaoahppit ja sin bearrašat bohtet museai rahpat dáidaga, mii lea 2,5 mehtera guhkku ja 1 mehtera govdu. Dáidagis leat 32 oassegova maid skuvlaoahppit leat duddjon ivdneulloláiggiin vieksávaksáin muorravuložiid ala.
Lea Kantonen ja skuvlamánát rahpet čájáhusa.
Mii lea NIERIKA?
Nierika  lea Wixárika álbmoga sátni, mii mearkkaša 'muođu', 'gova', 'oaffaruššima' ja 'oaidninskeaŋkka'. Wixárikat oaffaruššet unna nierika málengovaid bassi báikkiide. Sii málejit jorba fiskes nierika govaid iežaset muođuide ja maiddái dahket stuorát nierika láigegovaid vuovdimassii. Olmmoš sáhttá oažžut nierika, oaidninskeaŋkka, dábálaččat go lea máŋggaid jagiid bálvalan iežas álgoálbmot servoša.
Gáfestallan, gáhkut, sákta ja deadja.
SVD lea rabas lávvardaga 05.11 dii. 11-16.
Prošeakta gullá Sámiid Vuorká-Dávviriid 50-jagi ávvodoaluide.
Eambbo dieđut:
Museajođiheaddji Jelena Porsanger, jelena@rdm.no, tlf. 40612117;
Prošeaktajođiheaddji Lea Kantonen tlf. +358 503063073