Kárášjoga šaldi
Karasjok Bridge
Tekst/Čállán/Author: Arvid Petterson
Teaksta sámegilli lea vuollelis
Text in English, see below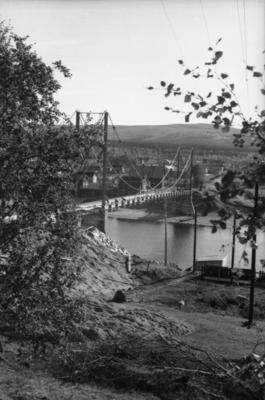 Dagens bro over Kárášjohka var ferdig bygd i 1952, åtte år etter at en lignende bro, bygd på samme sted under krigen, ble sprengt da de tyske styrkene ble trukket ut av kampområdene.
Veiarbeidet mellom Lakselv og Karasjok startet på begynnelsen av 1920-årene. I 1934 var det gjennomslag, og den første bussforbindelse til Hammerfest ble åpnet. Tidligere hadde området sendt sine produkter og hentet inn nødvendige varer med lange raider med rein og pulk, og senere med hest og slede.
Veien var bare farbar i sommerhalvåret, helt fram til 1950-tallet.
For å komme over elva i Karasjok ble det inntil krigen brukt elvebåter eller en større pram. Når isen begynte å legge seg om høsten, eller ved isløsningen om våren, var passeringen vanskelig. Under krigen ble en provisorisk trebru bygd, men den måtte tas bort før isen la seg eller ved stor flom.
I 1942 var veien til Karigasniemi ferdig, med bro over Anarjohka. Veien ble bygd ved at krigsfanger og tyske desertører (militærnektere) ble satt i tvangsarbeid. På finsk side var veien bygd ferdig fra Ivalo til Karigasniemi, og dermed kunne tyskerne slippe å frakte soldater og forsyninger til frontene over det farlige Østhavet. De kunne bruke havnene i Porsanger og veien til Ivalo, og derfra til Litza-fronten og andre tyske fronter i det nordvestlige Russland. Det kunne være kolonner på 30 og 40 lastebiler som brakte folk og forsyninger til frontene. På tilbaketuren kunne de ta med seg sårede soldater som ble plassert på lasarett i Karasjok, Skoganvarre eller sykehus andre steder.
På samme sted der hvor dagens hengebro står, ble en lignende hengebro bygd over Kárášjohka. Samtidig ble den større hengebroa over Tana reist. Da den tyske tilbaketrekningen startet fra frontene i øst i oktober 1944, ble ordren om tvangsevakueringen av befolkningen og bruk av den brente jords taktikk gitt den 28. oktober.
Alt ble brent sentralt i Karasjok og de nærmeste bygdene, og alle tyske anlegg ble ødelagt. Den største delen av befolkningen trosset ordren og gjømte seg på vidda eller i dalene. Den 6. november ble både Tana og Karasjok broer sprengt av tyskerne. Områdene øst og sør for broene var dermed de første områdene i vårt land som var frigitt.
Også etter krigen ble provisoriske broer bygd for sommertrafikken. I 1952 ble en slik bro tatt av flommen i elva, etter et langvarig regnvær. Da var det betryggende at den nye broa sto ferdig samme året.
Broa er 126 meter lang, og hovedspennet er på 100 meter. Høyden over elva er på omkring 10 meter.
Kárášjoga šaldi
1952:s gárvánii dálá šaldi rastá Kárášjoga. Dat lei gávcci jagi maŋŋá go sullasaš šaldi, mii lei huksejuvvon soađeáigge, bávkaluvvui go duiskka veagat geassádedje soahteguovlluin.
Geaidnohuksenbargu gaskal Leavnnja ja Kárášjoga álggahuvvui 1920-jagiid álggus. 1934:s lei dan mielde vejolaš vánddardit, ja vuosttaš bussesáhttu Hámmárfestii álggahuvvui. Ovdal ledje guovllus fievrredan gálvvuid heargeráidduiguin ja gerresiiguin, maŋit áiggiid heasttain ja reagain. Biilageainnu sáhtii gitta 1950-lohkui geavahit dušše bievlan.
Joga rasttildeapmái ledje Kárášjogas soađi ovdal geavahan johkafatnasiid ja stuorebuš práma. Čakčat go čázadagat jiekŋugohte, ja giđđat go jieŋat luite, lei rasttildeapmi váttis. Soađiáigge huksejuvvui gaskaboddosaš muorra šaldi, muhto dan fertii njeaidit dulvin ja ovdal jieŋui.
Geaidnu Gáregasnjárgii gárvánii 1942:s, man oassin lei šaldi Anárjoga rastá. Geainnu hukseje baggejumiin soahtefáŋggat ja duiskkalaččat geat eai háliidan searvat suodjalussii (desertevrrat). Suoma bealde lei gárvves geaidnu Gáregasnjárggas Avvilii, ja nu eai dárbbašan duiskkalaččat geasehit nuortaábi bokte soalddáhiid ja gálvvuid soahtešiljuide. Sii besse geavahit hápmaniid Porsáŋggus ja Avvila geainnu, ja nu vuodjit duiskka soahtešiljuide oarjedavvi Ruoššas. Sáhtte guhkes ráiddut main 30 ja 40 guorbmebiilla mat fievrridedje olbmuid ja gálvvuid soahtešiljuide. Go jorggihedje de sii sáhtte buktit roasmmuhuvvan soalddáhiid geaid guđđe soahtebuohcciviesuide Kárášjohkii, Skuvvanvárrái dahje eará buohcciviesuide.
Dien áiggi hukseje heaŋgášaldi rastá Kárášjoga seamma sadjái gos dálá šaldi. Seammás ceggeje maid stuorit šaldi rastá Deanu. Golggotmánu 1944:s go duiskkalaččat geassádišgohte nuorta soahtešiljuin de addui golggotmánu 28. beaivvi gohččun ahte galge gevret olbmuid bággoeváhkkui ja geavahišgoahtit taktihka «eatnama boaldin«.
Kárášjoga guovddážis ja lagamus giliin bolde buot, ja buot Duiskka rusttegat billistuvvoje. Eanas olbmot eai doahttalan gohččumii ja čiehkadedje duoddarii dahje vumiide. Skábmamánu 6. beaivvi bávkaledje duiskkalaččat sihke Deanu ja Kárášjoga šaldi. Danne ledje guovllut nuorttabeale ja lulábeale šaldiid dat vuosttaš luđolašvuhtii beassan eatnamat Norggas.
Soađi maŋŋá hukseje fas gaskaboddosaš šaldi geassejohtolahkii. 1952:s arvvi ollu ja dulvi doalvvui dien lágan šaldi. Dalle lei erenoamáš jeđđejeaddji ahte ođđa šaldi gárvánii seamma jagi.
Šaldi lea 126 mehtera guhku, ja váldogealdagasa gaska lea 100 mehtera. Šaldi lea sullii 10 mehtera badjelis go johka.
Karasjok Bridge
Today's bridge over the Karasjohka was completed in 1952, eight years after a similar bridge, built in the same place during the war, was blown up when the German forces retreated from the battlefields.
Road-building between Lakselv and Karasjok started in the early 1920s. The breakthrough came in 1934 and the first bus service to Hammerfest started up. Previously, the area had sent its produce and collected essential goods upon long lines of reindeer-drawn sleighs, and later, horse-drawn sleighs. The carriageway was only passable in the summer, right up to the 1950s.
Until the war, riverboats and a large barge were used in Karasjok to get across the river. The passage was difficult when the ice began to settle in the autumn or when it started to break up in the spring. During the war a provisional wooden bridge was built, but it had to be removed before the ice settled and during heavy floods.
The road to Karigasniemi was completed in 1942 with a bridge over the Anarjohka. The road was built by prisoners of war and German deserters (conscientious objectors), who were put into forced labour. On the Finnish side, the road was completed from Ivalo to Karigasniemi, thus allowing the Germans to avoid transporting soldiers and supplies to the front over the hazardous Baltic Sea. They could use the ports of Porsanger and the road to Ivalo, and drive to the German front in northwestern Russia. There could be columns of 30 to 40 trucks taking people and supplies to the front. They could bring wounded soldiers back on their return and place them in field hospitals in Karasjok and Skoganvarre or in hospitals elsewhere.
A suspension bridge similar to the one in the same place today was built over the Karasjohka. At the same time, the larger suspension bridge across the Tana was erected. When the German withdrawal from the Eastern Front began in October 1944, the order was given on 28 October for the forced evacuation of the population and the use of scorched-earth tactics.
Everything in central Karasjok and the surrounding area was burned, and all German facilities were destroyed. The majority of the population defied the order and went into hiding on the plains or in the valleys. On 6 November, both the Tana and Karasjok bridges were blown up by the Germans. The areas east and south of the bridges were therefore the first parts of our country to be liberated.
Following the war, a temporary bridge was built for summer traffic. A similar bridge was washed away by a flood in 1952 after a prolonged spell of rain, but the new bridge was fortunately completed in the same year.
The bridge is 126 metres long and the main arch has a span of 100 metres. The height above the river is about 10 meters.