SVD Musea lea almmustahttán ođđa logo.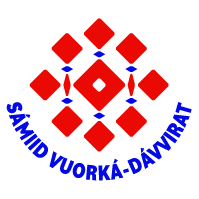 SVD Musea ođđa logo.
SVD Museas lea 50-jagi riegádanbeaivi jagis 2022. Ávvodoalut lágiduvvojit miehtá 2022, ja vuosttas doalut ledje beassášvahkus 12.04. Olbmot miehtá Sámi ja davviriikkain serve ávvudit ávvočájáhusa "RUOKTOT – Sámi rumbbuid máhcaheapmi – Tilbakeføring av samiske trommer – The Return of the Sámi Drums" rahpandoaluid.
Rahpandoaluid oktavuođas almmustahttojuvvui SVD Musea ođđa logo 50-jagi skeaŋkan. Dat lea juoidá mii ii leat SVD Museas goassege leamaš, earret dál. SVD Eaiggátstivra mearridii áššis guovvamánus 2022, ja logo loahpalaš hápmi dohkkehuvvui 14.03.2022.
Logo lea hábmejuvvon Kárášjoga láhppinboahkána minsttara ja ivnniid vuođul. Láhppinboagán ja dan duddjon lea leamaš Kárášjoga, Porsáŋggu, Deanuleagi, Ohcejoga ja Čáhcesullo guovllu duddjonárbevierus ja gárvodeamis dehálaš oassin. Láhppinboahkána hearvvat leat seammaláganat nisson-, almmáiolbmo- ja mánáboahkánis.
Láhppinboahkánis leat dábálaččat vilges vuođđoláiggit. Guovddášgirjái leat árbevirolaččat láhppon hearvvat rukses ja alit láiggis. Guovddášgirjji hearvvat leat iešguđetláganat ja dat rivdet báikkis báikái. Njealječiegadat dulkojit dávjá oskkoldasvuohtan, illun, ráfin, lihkkun ja ruhtan.
Maiddái ivnniin gávdnojit iešguđet mearkkašumit. Rukses ivnni navdet fápmun, eallimin ja ráhkisvuohtan. Rukses ivnnis gávdnojit mearkkašumit maiddái dola, lieggasa ja beaivváža hárrái. Rukses ivnni ektui fas alit ivdni dulkojuvvo dábálaččat ráfáidahtti ivdnin – alitvuođa mearkkašumit deattuhit nanuvuođa, vuoiggalašvuođa, almmi ja čázi.
Logo lea hábmen Laila Labba. Ivdne- ja hápmevuođđu lei Labbai addon ovddalgihtii.
Lihkku beivviin SVD, RDM ja sámi álbmot!