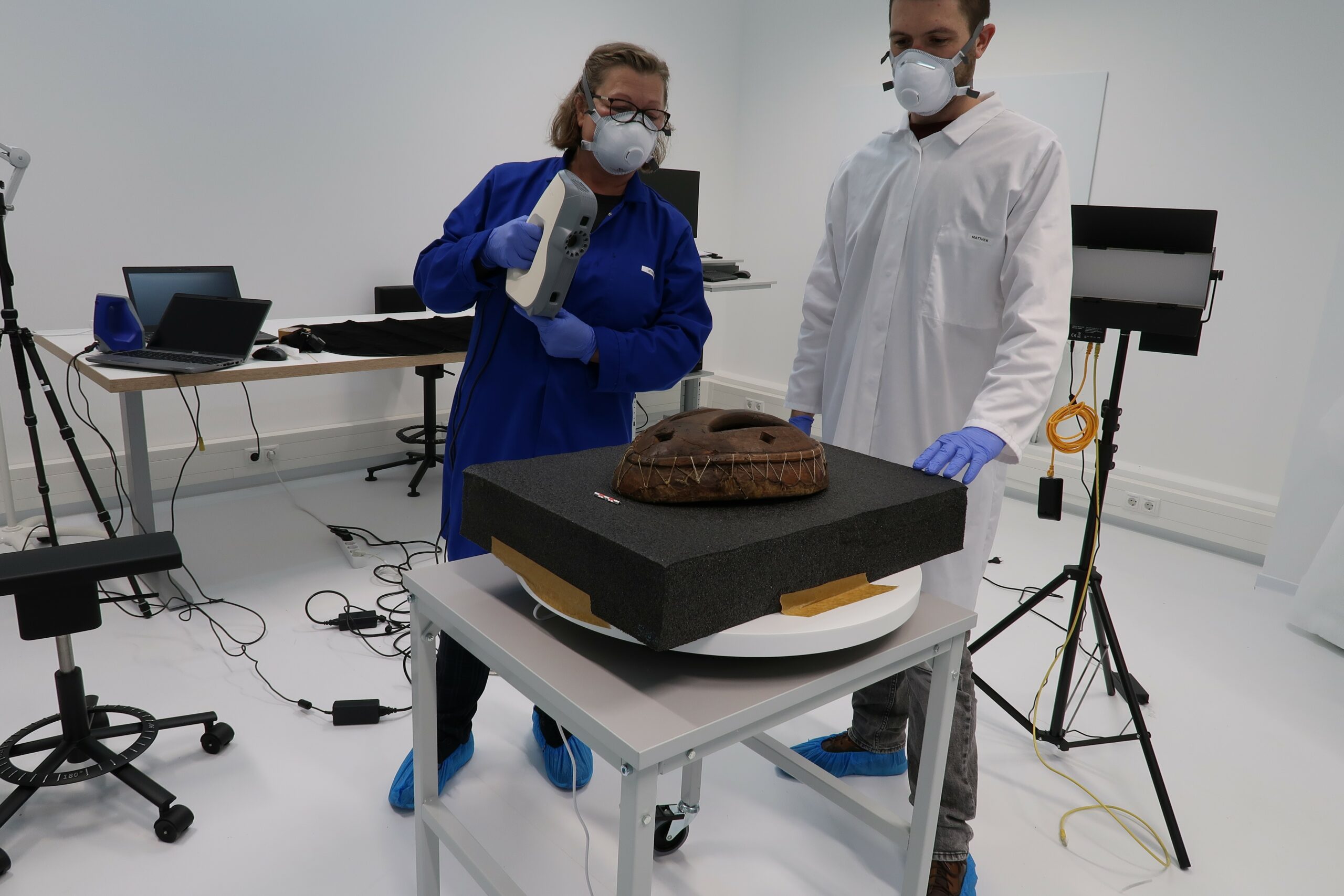 The Power of Museums: The power of innovating on digitalization and accessibility: Museums have become innovative playing-grounds where new technologies can be developed and applied to everyday life. Digital innovation can make museums more accessible and engaging, helping audiences understand complex and nuanced concepts. (https://icom.museum/en/our-actions/events/international-museum-day/)
Golmmadimenšunala teknologiija addá ollu vejolašvuođaid álgoálbmotmuseaide čájehit ja áimmahuššat álgoálbmot kulturárbedávviriid mat leat boarrásat dahje beare rašit gieđahallat. Dat addá vejolašvuođa studeret dávviriid dego livččii gieđas ja gulahallat eará museaiguin repatrierema birra. 3D-hámit rahpá uvssaid museaide gulahallat báikkálašolbmuiguin kulturárbbi birra.
2019 rájes lea RDM háhkan návccaid geavahišgoahtit ođđa digitála teknologiija. Kulturráđi- ja Sámedikki ruhtademiin oste ođđaáigásaš 3D-reaidduid ja RDM bargit oasálaste máŋgga 3D-modeallahábmen kurssain. 3D-teknologiija geavahuvvui go Sámiid Vuorká-Dávvirat ráhkade ođđa čájáhusa; RUOKTOT- Sámi rumbbuid máhcaheapmi – Tilbakeføring av samiske trommer – The Return of the Sami drums.
3D-teknologiija sáhttá maid atnit dáiddasuorggis. Dat addá dáiddaberošteaddjit vejolašvuođa geahččat dáidagiid, dego installašuvnnaid ja skulptuvrraid digitála golmmadimenšunála hámis, nu ahte dávviriid ii dárbbaš sirdit dahje čájehit fysalaččat. Dat lea maid ávkin oahpaheamis, jus studeanttat dahje dáiddaberošteaddjit háliidit geahččat dáidagiid dahje dávviriid teknihka ja hámi doppe gos ieža leat.
Dán čájehanmetoda heajos bealli lea dat ehtalaš bealli. Dat ii leat vejolaš ráhkadit digitála dáiddamodealla mii lea dan dávvira jumeš. Dat sáhttá eaddudit dáiddáriid jus mii ráhkadit digitála máŋgema sin dáidagis. Jus dáidaga dáiddár lea ain eallimen, de galgá válit suinna oktavuođa ja oažžut sis lobi ráhkadahttit 3D-máŋgema su dáidagis. Jus dáiddár lea vádjolan de galgá gulahallat dahkkivuoigatvuođaorganisašuvnnaiguin mat fuolahit vuoigŋadahkosa ovdalgo dáidagis dahká 3D-modealla.
RDM mii lea sámi institušuvdna ovddida 3D-teknologiija geavaheami min mihttomeari ja áigumušaid vuođul– áimmahuššat ja doarjut min álgoálbmot servodagaid ja kultuvrra guoddevaš ovdánahttima. Dan váste lea RDM ráhkadan dáhtahálddašanplána sámi- ja eará álgoálbmogiid kulturárbbiide, maid RDM stivra lea dohkkehan. Dat lea movttiidahttán várrogasat lahkonaddat sámi- ja eará álgoálbmogiid kulturárbbi 3D- dáhta juohkimii, earenoamážit museaid čoakkáldagain.