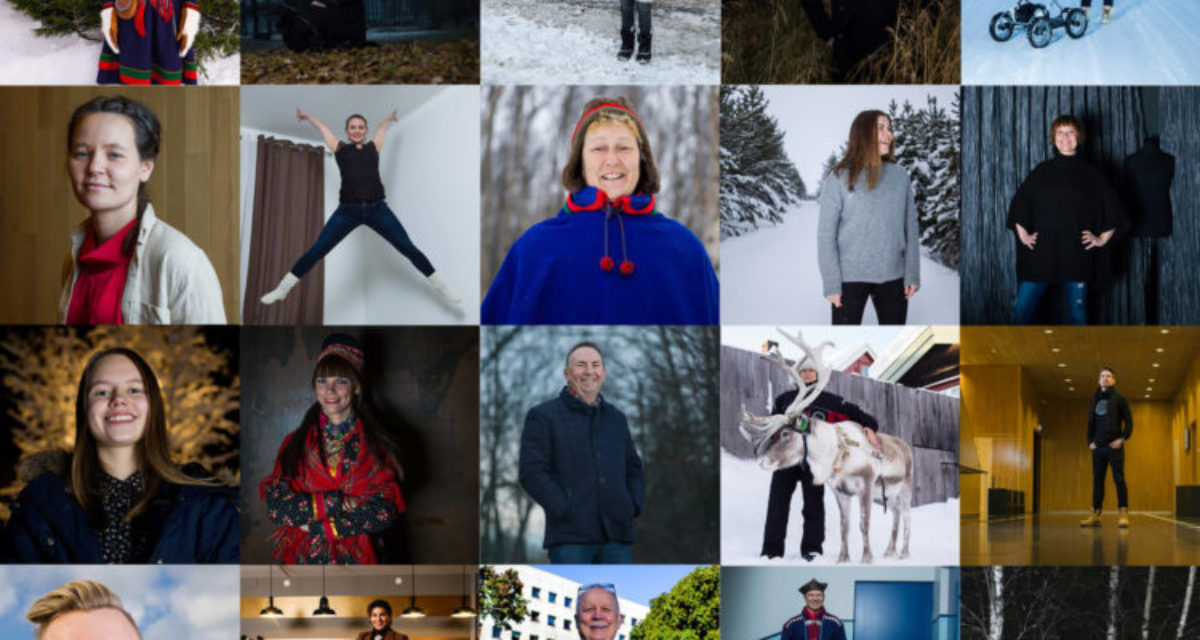 The exhibition is shown in Porsanger Museum in Lakselv, 17.06. - 31.08.20.
100 Sami Portraits is a major documentary and photo project made for Tråante 2017. Photographer and journalist Torgrim Halvari traveled around Norway, 2016, Finland and Russia to photograph and interview 100 Sami about their identity.
The reason for the project was that Halvari, after many years abroad where he worked with ethnic conflicts, became quite frustrated to come home to Norway and find that the stereotypes about minorities and indigenous people live as well here as in the world.
As a photographer, Halvari has had several exhibitions where his strength is portraits. He is excellent in  telling a bigger story in his work, the photograph communicates with the viewer on several levels.
Torgrim Hermansen Halvari has a master's degree in documentary photography. He has studied journalism, social anthropology, sociology, culture, the culture of the north and more. He currently works as information officer in the Norwegian Officers and Specialists Association, but spends his spare time as a photographer and artist. He is affiliated with the Norwegian Photographer's Association and is a member of the Sami Artists' Association where he also sits on the board. He is also a board member of the Sami Center for Contemporary Art.
In 2016, Halvari signed a letter of intent with Tana and Varanger museumssiida, of which the Savio Museum is a part, about touring the exhibition which he was about to produce. The exhibition was first shown, then in a simplified form, in connection with Tråante 2017. Later also shown during the Varanger Festival in Vadsø in August 2017. Then a collaboration between Halvari and the Savio Museum started with a view to touring the exhibition. It took some time before everything was in place, but the exhibition is still just as relevant. In the meantime, Halvari has published a book related to the project. The book "Same" was launched just before Christmas in 2019.
100 Sami Portraits is a photo project that settles on Sami sterotypes and tells something about what it means to be the sami today. The project also highlights the challenges facing Sami outside the Northern Sami area, and Sami outside the Sami Parliament's language management area, experience and in this way highlight these groups.
Many of those portrayed are well-known both in the Sami community and in their respective large communities. Others, again, are less well-known and perhaps even completely unknown to most. Associated with the 100 portraits in the exhibition also follows a statement from the person depicted on what the Sami identity means to this particular person. In this way, the exhibition tries to show some of the diversity of Sami culture and identity.
There are still many stereotypes about Sami and Sami. This photo project can therefore be a door opener to raise awareness and create discussion about what Sami identity is today. There are still many in Norway and the other Nordic countries, who do not know or understand the Sami culture. Reindeer and kofte are a very important part of the Sami identity, but the Sami is so much more.
Today there are Sami in every profession and in every city in Norway. They are doctors, fishermen, farmers, working on the stock exchange, with films, musicians and more. The fact that there are 11 Sami language groups and that there are Sami living in Russia is unknown to many.
100 years after the Trondheim gathering, some Sami people are still subjected to discrimination, stereotyping, racism and ridicule.
Much of this can be combated with information, and maybe this project can help understand and change your mind. However, today the Sami culture is strong and vital, the Sami identity is part of the professional, family and cultural life. Most people today are proud of their Sami identity and more and more people come out of the "closet" and find their way back to their Sami roots.
Producer of Exhibition tour:

Saviomusea Saviomuseet