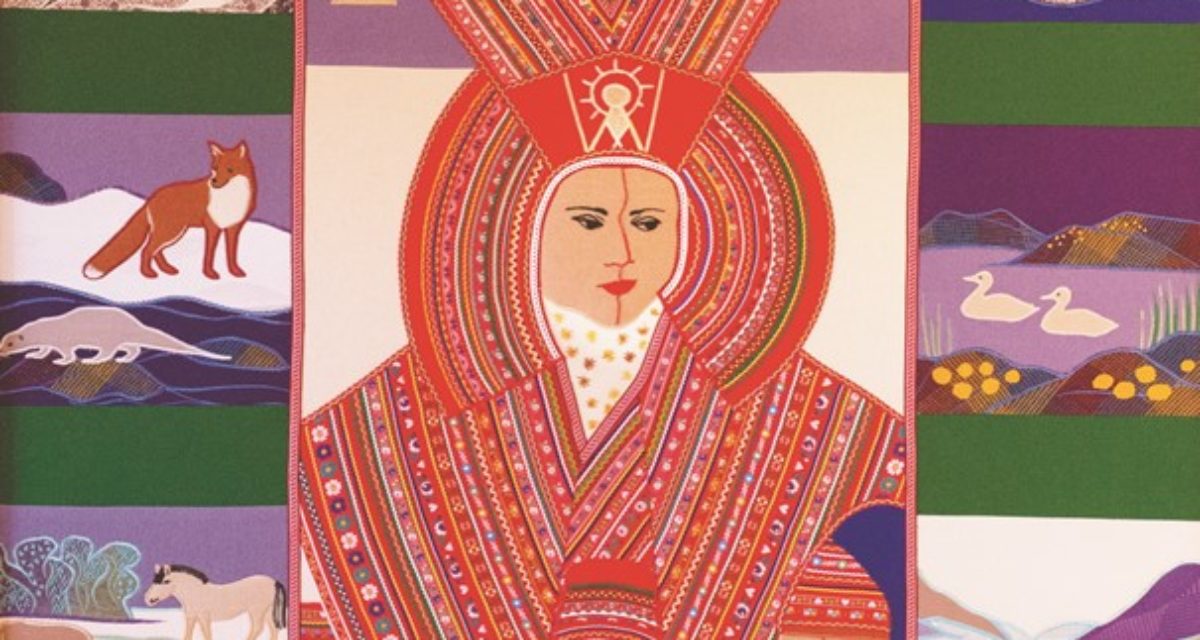 The art exhibition"Iežamet – What is ours" shows art by the Sámi artist group Mázejoavku. Exhibition periode 22.11.20 - 29.01.21, at Kautokeino Museum.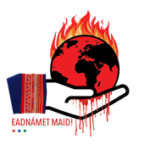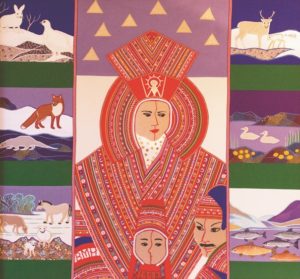 Mázejoavku was formed by eight Sámi artist in 1978, and went also by the names Masigruppa or The Sámi Artist Group, composed of Aage Gaup, Trygve Lund Guttormsen (d. 2012), Josef Halse, Berit Marit Hætta, Britta Marakatt-Labba, Hans Ragnar Mathisen, Rannveig Persen and Synnøve Persen.
By forming a collective in Máze in Sápmi, in the Norwegian periphery, they tried to escape the categorization, definition and disqualification of the majority. What a Sámi artist could do, they decided for themselves. What Sámi art could be, they decided for themselves. What a Sámi could say, they decided for themselves. The young artists reinstated the power of definition.
Today, the works from this time period stand as manifestations of Sámi claims of sovereignity; some fragile and subtle, others standing tall with eyes staring right back at the outside world. The works in Iežamet –What is ours shows glimpses of the artist's intentions, ideals and roots, but also their art education. The group partook a great deal in the Áltá actions and other demonstrations, fighting for Sámi self governance, and many of their artworks was incorporated in the Sámi rights movement.
The exhibition Iežamet is a collaboration between the Sámi artist collective Dáiddadállu in Guovdageaidnu and RiddoDuottar Museat, as a part of the digital art seminar Eadnámet Maid that took place earlier in November. The seminar puts focus on violence against nature.
EadnámetMaid' is a collaboration between Dáiddadállu, Office for Contemporary Art Norway (OCA) and the Sámi Parliament in Norway, and is a continuation OCA's and the Sámi Parliament's long-term engagement with the town of Máze, iconic in recent Sámi political history, and its advocacy for the establishment of an international Indigenous artist residency there.
Eadnámet Maid is funded by Office for Contemporary Art Norway, Sámediggi – the Sámi Parliament in Norway, KORO, RiddoDuottar Museat, Arts Council Norway, the Nordic Culture Fund, the Fritt Ord Foundation, the North Norwegian Artist Centre  and the Troms and Finnmark county municipality.
The exhibition is curated by the Sámi artist and author Susanne Hætta, assisted by Sámi duojár and designer Ann-Sofie Kallok. Both are artist partners in Dáiddadállu.